Kirja esittelee Cal Newportin reseptin siihen, kuinka löytää upea työ. Kirja on tosi hyvä.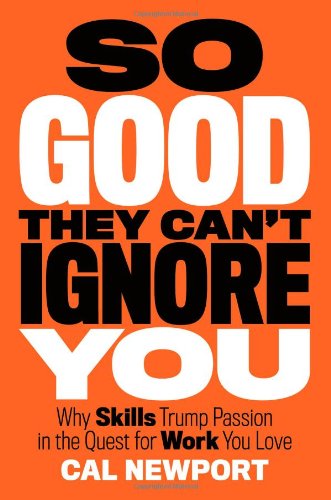 Kirjan keskeiset pointit pähkinänkuoressa:
– Intohimohypoteesi on virheellinen ja mahdollisesti haitallinen. Intohimohypoteesin mukaan upea työ löytyy niin, että ensin mietit, mikä on intohimosi ja sitten etsit työn, joka vastaa sitä. Intohimohypoteesi ei kuitenkaan selitä sitä, miten ihmiset, jotka rakastavat työtään ovat päätyneet nykyiseen työhönsä
– Intohimon etsimisen asemesta kannattaa investoida "urapääomaan" eli kehittää harvinaisia ja arvokkaita taitoja. Sitten kun sinulla on näitä taitoja, voit vaihtaa niiden tuottavan arvon haluamaasi työn ominaisuuksiin (Newportin mukaan näitä unelmatyötä kuvaavia haluttavia ominaisuuksia on autonomia, luovuus ja vaikuttavuus)
– Kerätäksesi urapääomaa kannattaa omaksua "artesaanin asenne": fokus siihen, mitä arvoa tuotat maailmalle sen sijaan mitä arvoa maailma (tai siis työ) tuottaa sinulle
– Kerätäksesi urapääomaa ja taitoja kannattaa käyttää tarkoituksellista harjoittelua (deliberate practice), jonka kaksi keskeistä piirrettä ovat:  1. Haastat taitojasi ja kykyjäsi jatkuvasti (teet sopivan vaikeita asioita) 2. Saat nopeasti rehellista palautetta tuotoksistasi
– Upean työn ehkä keskesin piirre, "ihme-eliksiiri", on autonomia: kyky päättää mitä teet ja miten teet sen. Kun sinulla on urapääomaa riittävästi, käytä sitä saadaksesi autonomiaa
– Kun mietit urapääoman vaihtamista autonomiaan, kohtaat kaksi sudenkuoppaa 1) jos yrität saada autonomiaa ilman riittävää urapääomaa, autonomia ei ole kestävää (esim. rahat loppuu) 2) jos sinulla on paljon urapääomaa, työnantajat ja ympäristö vastustavat yrityksiäsi vaihtaa sitä autonomiaan
– Yksinkertainen nyrkkisääntö em. sudenkuoppien välttämiseksi: tee sitä, mistä ihmiset ovat valmiita maksamaan sinulle. Jos kukaan ei halua maksaa sinulle ideastasi, et ole valmis vielä toteuttamaan ideaasi
– Uramissio on yksi asia, minkä voit ostaa jos sinulla on paljon urapääomaa.
– Parhaat missioideat löytyvät sieltä, missä oman alasi huippuosaamisen raja kulkee juuri nyt. Tarvitset paljon urapääomaa, jotta kohtaisit näitä ideoita
– Jos olet identifioinut yleistason mission, kannattaa protoilla sitä tekemällä systemaattisesti pieniä kokeiluprojekteja. Näiden projektien kannatta olla sellaisia, jotka huomataan: 1) ne ovat huomoita herättäviä 2) projektit kannattaa toteuttaa alustalla tai yhteisössä jotka tukevat huomion leviämistä
Seuraavaksi muutamia laajempia huomiota kirjasta.
Argumentoidessaan intohimohypoteesia vastaaan Newport käyttää mielestäni muutamia hieman heikkoja argumentteja:
"This result deals another blow to the passion hypothesis. In Wrzesniewski's research, the happiest, most passionate employees are not those who followed their passion into a position, but instead those who have been around long enough to become good at what they do. On reflection, this makes sense. If you have many years' experience, then you've had time to get better at what you do and develop a feeling of efficacy. It also gives you time to develop strong relationships with your coworkers and to see many examples of your work benefiting others. What's important here, however, is that this explanation, though reasonable, contradicts the passion hypothesis, which instead emphasizes the immediate happiness that comes from matching your job to a true passion."
Nämä kuvatut tulokset voivat selittyä valintaharhalla (selection bias): ne, jotka ovat olleet tietyssä työssä pisimpään, ovat todennäköisesti juuri ne, jotka myös pitävät siitä eniten. Ne, jotka eivät diganneet työstä, vaihtoivat toiseen, kun aika oli kypsä
Newport argumentoi intohimohypoteesia vastaan myös itseohjautuvuusteoriaan pohjautuen:
"Of equal interest is what this list of basic psychological needs does not include. Notice, scientists did not find "matching work to pre-existing passions" as being important for motivation. The traits they did find, by contrast, are more general and are agnostic to the specific type of work in question. Competence and autonomy, for example, are achievable by most people in a wide variety of jobs— assuming they're willing to put in the hard work required for mastery. This message is not as inspiring as "follow your passion and you'll immediately be happy," but it certainly has a ring of truth. In other words, working right trumps finding the right work."
Mun ymmäryksen mukaan itseohjautuvuusteorian autonomia-tarpeeseen kuuluu se, että tekee jotain omasta vapaasta tahdostaan. Autonomia toteutuu työssä parhaiten silloin, kun teet jotain ihan vaan tekemisen ilosta – eli tekisit sitä, vaikka et saisi siitä rahaakaan. Tältä osin autonomia ei nähdäkseni voi yhtä helposti yhden yksilön tapauksessa toteutua hyvin erilaisissa töissä sen takia, että ihmisillä on yksilölliset mieltymykset, jotka rajaavat potentiaalisten huippuduunien määrää. Autonomian suppeampi versio – se että saat ison vapauden päättää kuinka teet työtä ja milloin – voi taas toteutua hyvinkin monissa erinlaisissa duuneissa.
Urapääoman osalta ei ole vain tärkeää, se, että kehität taitojasi, vaan myös se, että sinulla luotettavaa näyttöä siitä, että taitotasosi on hyvin korkea.
Milloin ei kannata luottaa "artesaanin asenteeseen" (siis fokusoida siihen mitä arvoa tuottaa maailmalle):
"Three disqualifiers for applying the craftsman mindset:

1) The job presents few opportunities to distinguish yourself by developing relevant skills that are rare and valuable.

2) The job focuses on something you think is useless or perhaps even actively bad for the world.

3) The job forces you to work with people you really dislike. "
Pidän Newportin esille tuomasta jaottelusta: productivity mindset vs. deliberate practice mindset. Eli keskitytkö tekemisessä tuottamaan (saamaan asioita aikaiseksi) vai tarkoitukselliseen harjoitteluun. Newport suosittelee jälkimmäiseen keskittymistä. Olen samaa mieltä: pitkällä aikavälillä osaamisinvestoinnit auttavat saamaan aikaan paljon enemmän asioita.